Nurturing Palates, Inspiring Curiosity
Playful, nutritious school meals and culinary-based enrichments for students from preschool to high school! Proudly serving the Greater Los Angeles Area.
Learn More
We provide flexible, ready-to-eat meal plans for breakfast, lunch & snack tailored to your specific needs that your kids & students will love to eat.
We're not just meeting the National School Lunch Program (NSLP) standards, we're exceeding them with locally sourced and organic ingredients whenever possible.
We believe in connecting kids & communities in the process of how food is grown and made, from culinary education to nutritious full-service meals.
School Meal Programs
As a full-service meal provider, we offer breakfast, lunch, snacks and drinks served family style or in individual bento boxes. Our meals are designed and approved by a dietitian to ensure we meet and exceed NSLP standards, using organic and locally-sourced ingredients whenever possible. 
Learn More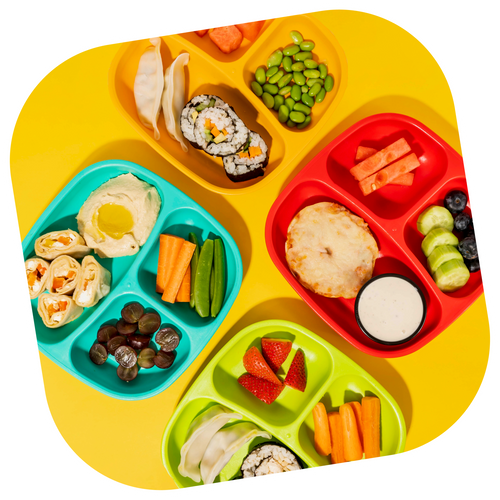 Culinary Enrichment Programs
Our enrichment classes foster a more connected relationship to food, introducing everything from nutrition education and cooking classes to food entrepreneurship. Our programs develop culinary skills, promote cultural awareness, and cultivate teamwork and leadership.
Learn More
Parents, let us take the stress off your plate!
If your kiddos  are currently enrolled in one of our schools, click below to create your account.
 If we don't currently serve your school and you'd like to see Lunch Bunch there, please email us so we can connect with your school administrators.
What's For Lunch
We're on a mission to get the best food to the most kids. That's why our meals are designed and approved by a dietitian to ensure we meet and exceed NSLP standards, using organic and locally-sourced ingredients whenever possible.
A vegan sushi roll filled with a rainbow of colorful carrot, mango & cucumber with coconut aminos for dipping. Served with seasonal fruits & veggies.
Rainbow Roll
Broccoli pesto fusilli pasta with "shh!" hidden greens, whole grain garlic bread & hummus. Served with fresh seasonal fruits & veggies.
Pesto Pasta
Kid-favorite french toast dippers served with turkey breakfast sausage, organic agave dipper. Served with fresh seasonal fruit & veggies.
French Toast Dippers
Nitrate-free turkey and cheese sandwich with shredded carrot salad. Served with fresh seasonal fruit & veggies.
Tasty Turkey Sando
Testimonials

Brightstar Schools
"Non-stop we hear the kiddos talking about cooking class…It's something that our students really look forward to each week."

Maureen Lawrence,
Alpert Jewish Community Center
"I'm LOVING the food!!" "You all are so on top of things. Thank you!"
Morgan Lennon
"We love that we're able to provide Lunch Bunch meals to our community. Childcare shouldn't be hard, and neither should mealtime. We're so happy to partner with a company that offers nutritious, ready-to-eat food that kids love."
Together, let's transform the way our children nourish their bodies and minds
Founded by three-time entrepreneur, mom of two & LA native, Natasha Case, Lunch Bunch exists to revolutionize school nutrition, connecting kids and community over good food.
Frequently Asked Questions
All Lunch Bunch subscriptions are through our approved school partners — your school must be currently partnered with Lunch Bunch in order to receive meals delivered directly to your school. Wondering how to connect us with your school? You can help make an intro today and earn $500!
Yes! We have our chef-selected or vegetarian menu options available every day — we've found that kids really enjoy being involved in the process. Your menu will automatically update each Thursday with new featured daily meals. Be sure to update for any dietary restrictions or preferences.
As we cook all meals prior to delivery, our culinary team needs a little extra notice if you'd like to make a change to your subscription. This includes skipping, pausing, canceling, swapping days, or menu edits. All changes need to be communicated prior to Wednesday 11:59 PM Pacific Time for the following Sunday-Saturday. Please note that we are unable to guarantee any changes to your subscription made after the cut off time, but will do our best to accommodate.
We have options for vegetarian, vegan, and gluten-free diets, and can sometimes accommodate other dietary restrictions and preferences. Please contact us for more information. We are a nut-free facility.
Please fill out the form on this page and we will reach out to you to gather any information necessary to prepare a custom proposal for your school catered to your students' needs.
Get in touch with us via email at support@lunch-bunch.com, or you can text us and call us at +1 424-252-3667. Our Customer Support team operates Sunday-Friday 9a-5pm Pacific Time. We offer a white glove concierge service from a dedicated Customer Experience Manager for all of our Lunch Bunchers.